The bathroom is one of the best places to be in while at home. You get to refresh yourself as well as relax from the hustle and bustle of the day. Such a place requires meticulous work in terms of design to provide a serene relaxing environment. When designing a bathroom, it is vital to put into consideration the human aspect. Renovations are always a constant for bathrooms, especially, when you stumble on a new idea that will augment your experience. Since you are likely to be home most of the weekends, you may be tempted to spend much of your relaxing time in the bathroom. Renovating the bathroom, thus, requires looking at various elements to effortlessly deliver a well-designed bathroom.
1. Lighting Aspect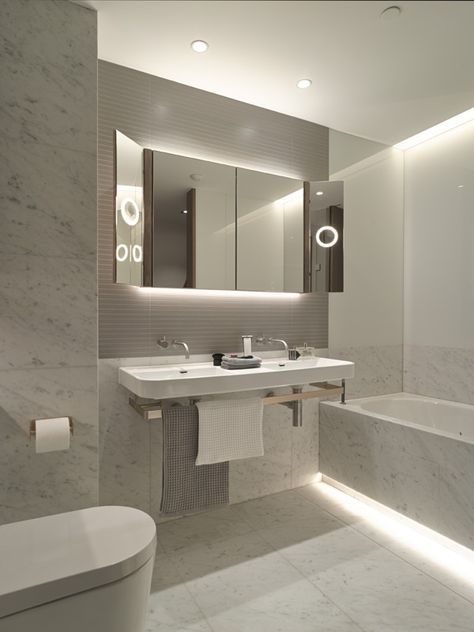 Most bathrooms lack open windows and are slightly darker in lighting due to limited light from outside. The lighting is a quick fix that you can execute in a matter of minutes as it requires little to no effort. The challenging part of lighting is the choice to go with. One of the unique lighting designs is flanking of the bathroom mirrors with lights. Ensure that the brightest parts of the lights are in line with your face to eliminate shadows. Secondly, bathroom light modeling should be based on daylight to capture the true color of things. Bathroom lighting fixtures chosen should bear shades of white, frost and clear color.
Make use of Incandescent and Compact Fluorescent bulbs that are warm white or cool white providing a perfect mirror image of the daylight. These bulbs are readily available and easy to install without much of the expertise required. Perhaps the latest trend to consider is LED lighting bulbs which provide a cooler feel and touch of daylight. In choosing LED bulbs, pay attention to the brightness that is indicated in lumens. Lighting adopted should consider the design of the bathroom to eliminate a lot of reflections that could be hazardous to the eyes.
A simpler and faster way is to layer the wash basin lighting so that it creates a good soft atmosphere when soaking in the bathtub. The layering function of the dresser lamp allows you to change the atmosphere of your bathroom to suit your desired state. It is recommended to install a dimmer switch for easy light control at your convenience. For a proper lighting theme, use a ceiling light to create a relaxed and romantic atmosphere. LED downlight is a recessed lighting device hidden in the ceiling. It was developed by combining traditional lamps with LED bulbs. You can install downlights in the kitchen, bathroom, living room, and outdoor. The downlights have different waterproof levels to meet different humidity environments. Try to use downlights with high waterproof level in the bathroom, otherwise it may cause short circuit easily. ENUOTEK can provide you with lamps with a water resistance index of IP54.
2. Bathroom Spacing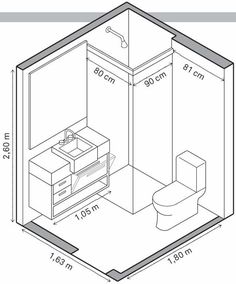 Spacing is one of the core factors to consider while making an effective bathroom. Offering a generous amount of space to it makes it look more attractive, beautiful, unique, and elegant. It feels good to be in a bathroom that offers you maximum flexibility and freedom while handling your private activities. Normally measuring the spacing of a bathroom is done by drawing an imaginary line at the central part of the bathroom area and across the drainage hole. This formula goes from side to side and nor front to back. With this, the placement of the toilet and fixers is made easy, reasonable, and accurate. This comes handy with choosing the correct floor plan for your bathroom before fixing the bathroom tabs and toilets. The most important thing is that at the end of the day you will have to account on every inch spent on spacing.
With such knowledge, the right fixtures are required, and they are readily available. Manuals exist that offer in-depth knowledge and guidelines on how to go about creating the required bathroom space. A weekend is more than enough to renovate a well-laid out of the spacious bathroom. Secure the right materials and proper renovation knowledge on how to make your space work for you. You may need a hand in setting up some structures for a proper job. You must take care to avoid overloading your bathroom floor. Leave a lot of room and fix proper and relevant fixtures appropriate for the bathroom floor.
3. Storage Facilities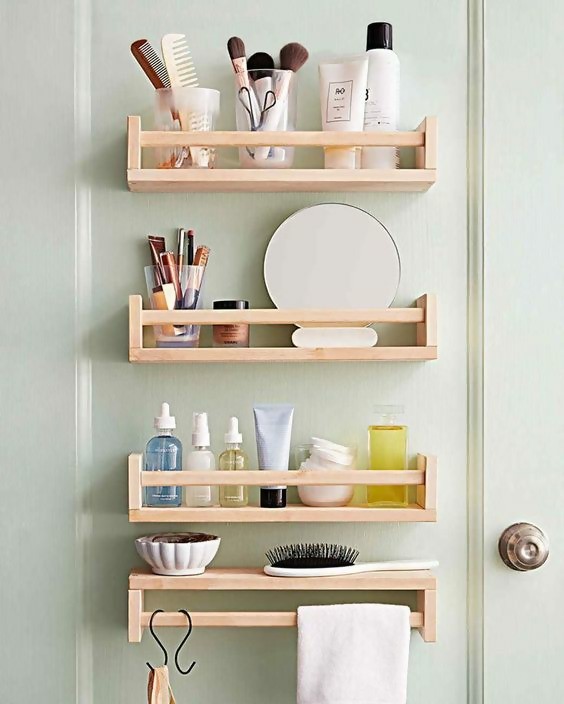 An ideal bathroom should have a storage facility for the keeping of the toiletries. It is so odd that some homes have bathrooms where such items are placed on top of the toilet or the window panes. To create a clean and well-arranged bathroom, a storage system is required to stock extra items. The setting of such facilities is very easy and less time-consuming. There are readily available storage cabinets that can be bought and assembled at home with very minimal effort. On identifying the right location within the bathroom, the cabinets can be fixed along the walls.
There is no specific formula or criteria to use on the storage facility option of choice. This aspect needs your creativity and idea execution. The key thing to note is that your bathroom should not be overcrowded or have a poor arrangement. In this case, you have to either have an inbuilt drawer cabinet for storage or create a unique storage cabinet. The most ideal storage facility to consider is a suspended cabinet or shelves above the ground. Such cabinets and shelves are easy to install in hours and can hold a lot of toiletries at the same time. A weekend dedicated to renovating your bathroom is just but enough in installing the storage facilities.
4. Theme color or paint
Color adds beauty to anything in life and so does the same apply to bathrooms in renovations. Other than making the bathroom beautiful, a bright neutral color brings warmth and a great tone to any type of bathroom. Such colors include creamy white, pistachio, light blue, bright white, cherry red, neon yellow, and many others. Color choices and preferences may not be the same but ensure that your choice goes well with the bathroom's intended theme and color that brings a sophisticated look at your bathroom. Further, a color that augments light offers you a soothing atmosphere; such a color is the best match for any bathroom.
Besides, theme color and paint should be chosen based on the tidiness perspective. A brighter or white paint shows a sort of purity and cleanliness of the bathroom. A brighter color can easily be cleaned and makes the bathroom livelier. This is a simple task that can be executed in a matter of hours to paint and probably a day or two to completely dry up. Upon making the paint color choice, take your time to paint the walls and the bathroom doors. Remember to leave the windows and bathroom door open for air circulation and to speed up the rate of paint drying. Whichever color is chosen should be able to augment lighting.
5. Bathroom Furnishings and Accessories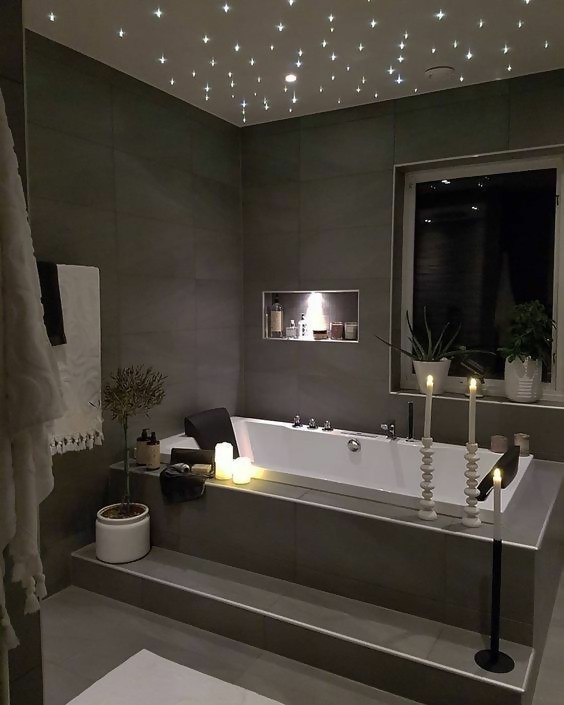 A bathroom without any artistic work and proper stocking is just but a room. There are several furnishings and accessories you should consider adding to your bathroom when renovating. Such things as mirrors, newspapers, flower vase with flowers, metal rods or bars for holding towels, soap, and excellent hardware choice are advised. These fittings and accessories play vital roles in augmenting your bathroom experience. The chosen artifacts should have varied decorations that create a good and serene environment. In lighting, make use of unique chandeliers that will augment the chosen artifacts to have in the bathroom.



Consider having toilet rolls holders, toothbrush holders, and towel rails and rings to keep such accessories clean always. Further, install bathroom hooks where necessary, place laundry baskets and bins for used towels and clothes, and consider having floor mats as well. Soap dishes come in handy in holding the soap as well as soap dispensers for quick hand wash after bathroom use. For toilet cleaning, purchase toilet brushes, and air fresheners. Install shower curtains to demarcate the bath area from the toilet where there is no enough room to work with. Whatever furnishing or accessory you choose to work with, you must fit them within the available bathroom space to avoid overcrowding.
The humanized bathroom design can make you feel more comfortable and warm, and has a good effect on alleviating fatigue. I hope the above five points can help you design your bathroom.
About the Author:
Christina is the marketing director of ENUOTEK. She is a designer specializing in interior decoration. In a rough article, she shared her insights into a range of interiors, decorative techniques, soft furniture and building renovations. For more information about lamps (downlights, chandeliers, table lamps, cabinet lights), design concepts (decoration, design, transformation), please visit ENUOTEK.